Vegan panettone with ESTELLA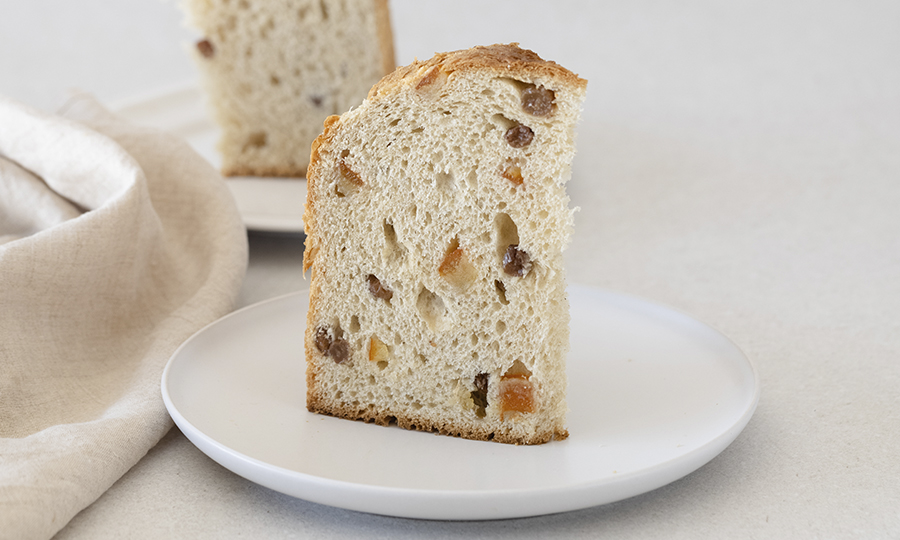 Ingredients
PRE-DOUGH
1000 g ESTELLA
550 g Vegan drink (soy, rice, almonds)
200 g Margarine
1 g Baker's yeast
MAIN DOUGH
1751 g Ppre-dough
300 g GRAN LIEVITATI - soft wheat flour type 0
50 g Soy milk
250 g Raw sugar
23 g Invert sugar
100 g Margarine
100 g Cacao butter (melted)
300 g Raisins
250 g Candied fruits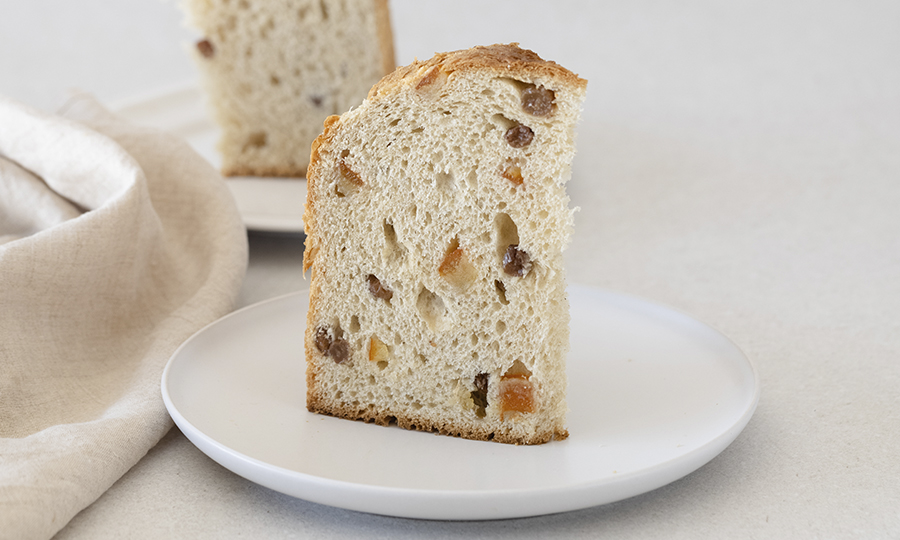 Preparation
PRE-DOUGH
MIXING*
: Knead the dough for 4 min. slowly + 5 min. quickly or until the dough seperates from the edge of the bowl. Add margarine.
DOUGH TEMPERATURE: 25-28°C

DOUCH REST: 10-12 hours at 27-30°C or until the dough has quadrupled. Cover with plastic wrap without humidity.
MAIN DOUGH:
MIXING: 4 min. slow + 7 min. fast. Or until the dough separates from the edge of the kettle. In order, add sugar, invert sugar, margarine, egg yolk, cocoa butter, and last fruit / raisins.
DOUGH TEMPERATURE: 25-28°C
DOUGH REST: approx 45 min. at 28-30°C
DOUGH PIECES: Divide dough into 1,070 g pieces, fold in and round to panettone form
PROOFING: approx. 3-5 hours at 28-30°C, with 85% humidity or up to double the volume
BAKING*: 180°C, approx. 35 min with steam + 20 min. with open the valve
Panettone to 750 g +15 min.
Panettone to 500 g +10 min.
Immediately skewer the panettone, immediately turn and cool upside down.
*The recipe has to be adjusted to the technique and tools used.
Gran Lievitati - soft wheat flour type 0
The ideal flour for seasonal leavened products like panettone, pandoro, colomba and other high-quality baked goods. The flour stands up for its elevated gluten content. Without ascorbic acid.W 350 - 390 | p/l 0,70 – 0,80 | water absorption > 55,0 % | stability > 10,0 min| wet glue > 34,0 %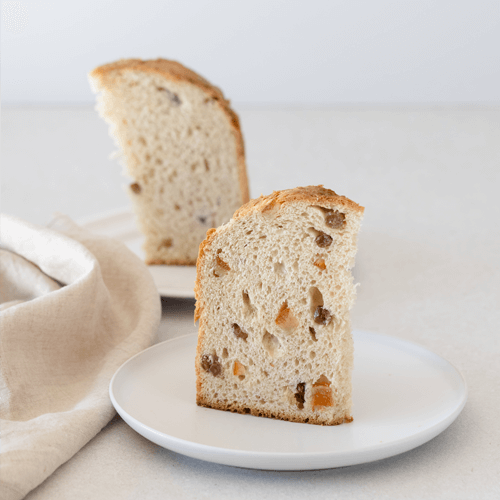 Estella vegan 15kg
PRODUCT LINE INACTIVE Special mix for vegan yeast doughs like Panettone, Pandoro, Colomba etc. with inactive lievito madre natural yeast. Baker's yeast can be added individually. An ideal mix, easy to handle with a minimum shelf life of three months. Dosage: 70%. Advantages using our mix with lievito madre: > for long (with pre-dough) or direct (with the addition of yeast) dough process > increases fermentation stability and tolerance. > open-pored and soft finished product > improves the flavour of products by enhancing the taste of the flour used. > prolongs the shelf life of a product.