Buckwheat dumplings
Ingredients
Serves 8 people (16 dumplings)
400 g stale bread, cubed (rye bread, f.e. Venostini)
Approx. 300 ml milk
½ leek
½ onion
Parsley
Butter
100 g bacon, cubed
100 g coarse buckwheat flour
3 eggs
Salt
Preparation
Cut the stale bread into small cubes, then soak in the milk.
Finely chop the leek, onion and parsley, and sauté all with the speck in the butter. When cooked, add to the soaking bread with the beaten eggs and a pinch of salt.
Then add the buckwheat flour. Mix well and leave to rest for an hour, then shape mix into dumplings.
Steam for 20 minutes in a steamer or in a saucepan with a steamer basket. Serve with melted butter and parsley with a cabbage salad.
Dumplings can also be made with cheese, pushing a little piece of cheese into the dough ball before cooking.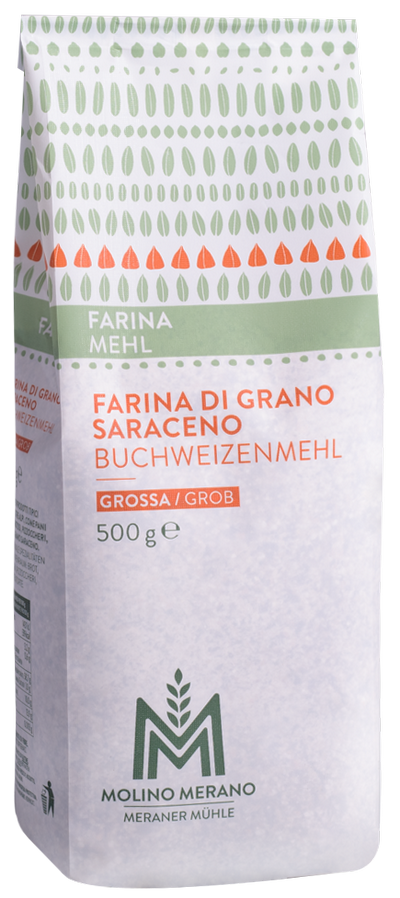 Farina di grano saraceno grossa
Il grano saraceno è una tipica pianta coltivata in Alto Adige, e la sua pregiata farina si trova in molte specialità regionali dell'arco alpino: negli gnocchi, nella tipica torta con marmellata di mirtilli rossi o nell'involtino di grano saraceno. Il residuo di buccia macinata assieme alla farina gli conferisce il tipico colore grigiastro con fini punti neri. Il grano saraceno dona anche alle specialità di pasta una speciale nota di nocciola. Si può mescolare a piacere con farina di grano saraceno fine.