Braided yeast bread
Preparation
Mix flour, lievito madre, milk, rum and eggs and knead for approx. 5 minutes. Add sugar and salt, finally add butter, vanilla sugar and abrasion of a lemon. Continue to mix until the elastic dough separates from the rim of the bowl. Cover the dough and let it rise at 23°C - 35°C for approx. 45-70 minutes until it's doubled in size.
Place the dough on a floured cutting board, divide, form balls and shape strands. Braid the strands into 2 loaves
and cover them. Let them rise at 23°C - 35°C for approx. 60 - 90 minutes.
Brush the loaves with the scrambled egg and decorate with sugar crystals. Bake in the preheated oven at 180°C upper and lower heat for approx. 25 minutes.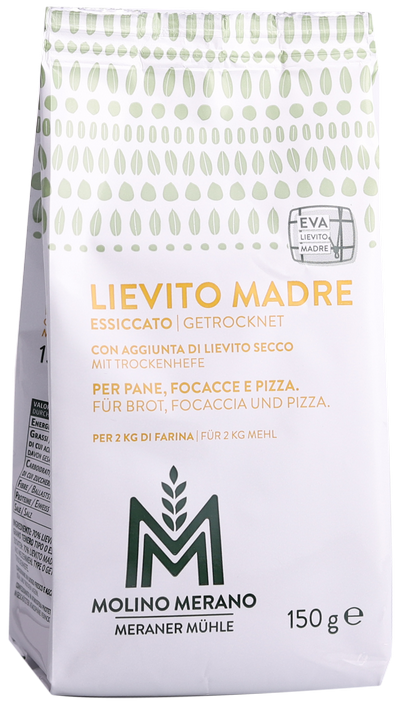 Lievito madre con aggiunta di lievito
Questo lievito madre essiccato del Molino Merano con aggiunta di lievito di birra viene utilizzato per la creazione di pane, pizza, focaccia e lievitati dolci. È consigliato a chiunque vuole godersi i vantaggi del lievito madre ma che vogliono anche passare meno tempo a cucinare: gli impasti possono essere lasciati lievitare per circa 2 ore in totale. Per prodotti da forno particolarmente digeribili e soprattutto molto gustosi.Dosaggio: 75 g su 1 kg di farina.Ricetta: Pane a lievitazione naturaleTreccia dolce con lievito madrePane con lievito madrePizza tirolese con lievito madre