Braided yeast bread with herbs and natural yeast
Ingredients
30 g herbs (rosemary, sage, parsley, thyme, oregano, marjoram…)
300 g soft wheat flour type 00, no. 6 (W300/340)
160 g soft wheat flour "La Speziata"
150 g durum wheat flour
35 g lievito madre with dry yeast
150 g water (warm)
150 g milk (warm)
2 yolk
10 g salt
50 ml olive oil

Additionally:
durum wheat semolina


Preparation
Wash the herbs, shake them dry and chop them finely.
Add flour, lievito madre, water and milk to the mixing bowl. Switch on the kneading machine and add yolk and salt. Continue kneading until the dough takes shape.
Gradually add the olive oil and finally the herbs and continue kneading until the smooth and elastic dough separates from the rim of the bowl.
Turn the dough over on the work surface and fold it a few times. Then put it back into the bowl. Cover the dough and let it rise for about 1 hour in a warm place until the its volume has doubled.
Put the dough onto the work surface sprinkled with semolina and divide it into three equal parts. Shape strands of approx. 50 cm in length, then braid the strands into a loaf. Place the loaf on a baking tray, cover it and let it rise for about 30 minutes. In the meantime, preheat the oven to 160 degrees (upper and lower heat). Bake for about 35 minutes.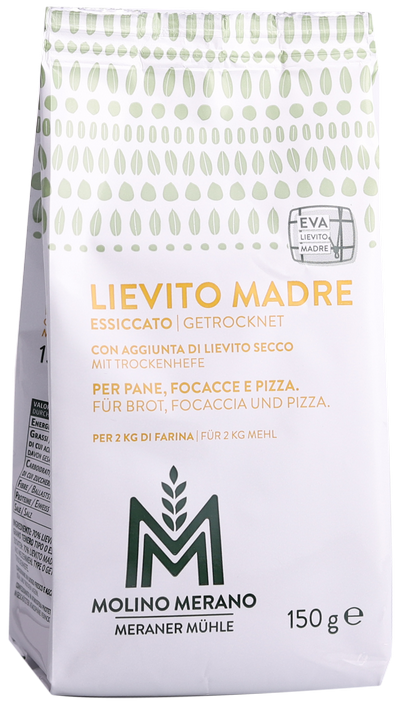 Lievito madre con aggiunta di lievito
Questo lievito madre essiccato del Molino Merano con aggiunta di lievito di birra viene utilizzato per la creazione di pane, pizza, focaccia e lievitati dolci. È consigliato a chiunque vuole godersi i vantaggi del lievito madre ma che vogliono anche passare meno tempo a cucinare: gli impasti possono essere lasciati lievitare per circa 2 ore in totale. Per prodotti da forno particolarmente digeribili e soprattutto molto gustosi.Dosaggio: 75 g su 1 kg di farina.Ricetta: Pane a lievitazione naturaleTreccia dolce con lievito madrePane con lievito madrePizza tirolese con lievito madre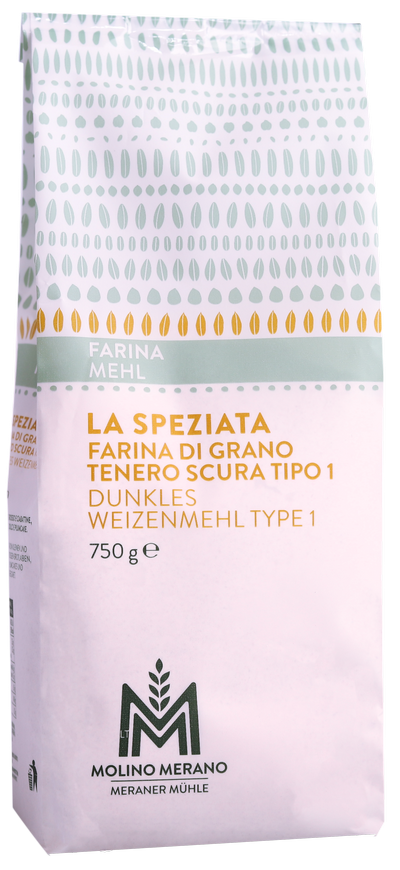 Farina di grano tenero tipo 1 "La Speziata"
La farina di grano tenero tipo 1 "La Speziata" è una farina di frumento particolarmente aromatica. Questa specialità di farina è ricca di fibre, ma ha ottime proprietà di cottura per dare una nota raffinata sia a pani deliziosi, che a prodotti da forno saporiti e dolci. Provatela anche in impasti lievitati dolci o nella pizza! Grazie al suo elevato contenuto proteico, è perfetta per impasti a lunga lievitazione.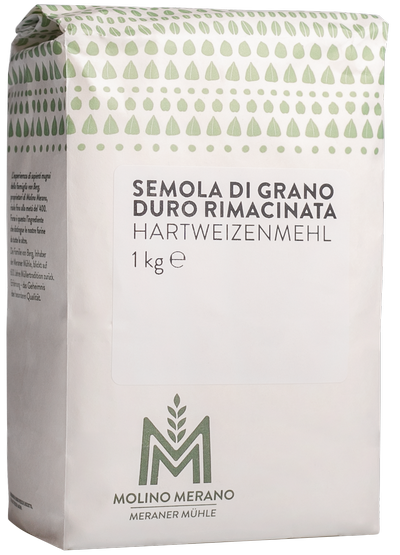 Semola di grano duro rimacinata
Dalla semola di grano duro selezionata viene prodotta una farina di grano duro fine, dorata e luccicante, con una speciale tecnica di macinazione italiana. La farina di grano duro biologica del Molino Merano è caratterizzata da un raffinato aroma dolciastro e da un accattivante colore giallo, che si deve all'elevato del contenuto di carotenoidi. Grazie al loro effetto antiossidante, questi svolgono un ruolo importante nell'alimentazione umana. La farina di grano duro è ideale per la preparazione di pasta, pizza e pani tipici italiani, come la ciabatta.Ricetta:Pane con Lievito Madre