Buckwheat cupcakes
Ingredients
For 8 cupcakes
Dough
8 g baking powder
125 g yoghurt
80 g cane sugar
50 g butter
2 eggs
Mascarpone cream
150 g whipped cream
150 g mascarpone or a cream cheese
2 tsp icing sugar
8 tsp cranberry jam or your favourite jam
Preparation
Mix the eggs with the yoghurt and the melted butter.
In a blender, finely chop the hazelnuts, they should have the consistency of semolina or coarse flour. Whisk together hazelnut flour, buckwheat flour, sugar and baking powder. Add
the dry ingredients to the wet ingredients and mix well with a whisk.
Fill the cupcake liners and bake at 180°C for about 30 minutes. Check with a toothpick to make sure they are cooked.
Mascarpone cream topping
Whip the cream with the icing sugar, then add the mascarpone gently. Spoon or pipe the cream onto the cooled cupcakes. S
prinkle with cinnamon and serve with the jam.
Photo and recipe: Valentina Tozza "La Cucina che Vale"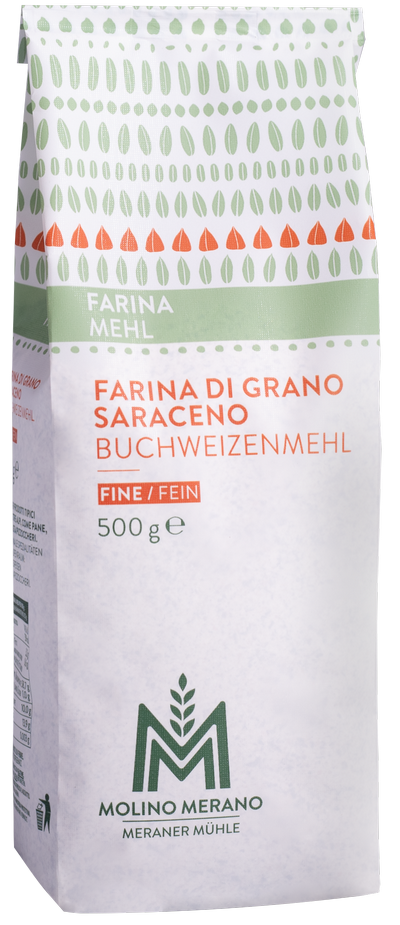 Farina di grano saraceno fine
Il grano saraceno è una tipica pianta coltivata in Alto Adige, e la sua pregiata farina si trova in molte specialità regionali dell'arco alpino: negli gnocchi, nella tipica torta con marmellata di mirtilli rossi o nell'involtino di grano saraceno. Il residuo di buccia macinata assieme alla farina gli conferisce il tipico colore grigiastro con fini punti neri. Il grano saraceno dona anche alle specialità di pasta una speciale nota di nocciola. Si può mescolare a piacere con farina di grano saraceno grossa.
Nocciole Bio
Le nocciole del Molino Merano provengono da coltivazioni biologiche certificate e seducono con il loro gusto fine e intenso di nocciola. Come spuntino, in muesli, pane e dolci! Il loro elevato contenuto di magnesio e vitamina B rende le noci un "alimento per i nervi" e le fibre che contengono stimolano la digestione.