Hearty gluten-free pita with bacon and potatoes
Ingredients
For 2 pitas
9 g dry yeast (or 25 g fresh yeast)
40 ml olive oil
15 g honey
15 g salt
350 ml warm water
1 medium potato
150 g bacon
150 g mature hard cheese
1 onion (or shallot)
Some chives
Salt and pepper
Preparation
Dissolve honey and dry yeast in warm water. Add the baking mix as well as salt and oil. Pour the mixture onto the work surface and knead for approx. 5 minutes to a smooth dough. Divide into two halves, roll out two flat cakes with a little flour and place both on a baking tray covered with baking paper. Cover with a cloth and let them rise in a warm place until they're doubled in size. (depending on the temperature this can take 1 to 4 hours).
In the meantime, prepare the topping: boil the potatoes, cut the onion into rings, grate the cheese and cut the bacon into strips.
Preheat the oven to 220°C top and bottom heat.
As soon as the pitas have approximately doubled in size, cover with the prepared ingredients and bake for about 30 minutes. Garnish with freshly chopped chives and a pinch of black pepper.
Tip: Add caraway and fennel seeds during the last 5 minutes in the oven for a wonderfully spicy aroma!
Photo and recipe by Anna Fracassi - l'ennesimo blog di cucina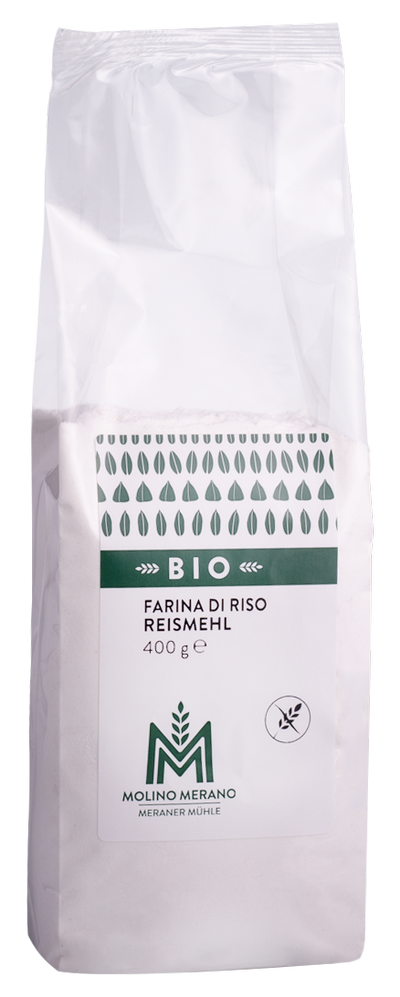 Farina di riso senza glutine Bio
La farina di riso biologica senza glutine del Molino Merano è ideale per prodotti da forno dolci e salati in combinazione con altre farine. Grazie al suo aroma delicato, si possono addensare anche salse e zuppe. È particolarmente adatto a chi evita il glutine nella dieta quotidiana.