Pizza Margherita with lievito madre
Ingredients
Dough:
300 ml water (28°C)
25 ml olive oil
10 g salt
Topping:
Tomato sauce
Mozzarella
Basil
Preparation
Mix all the ingredients and knead for approx. 12 minutes until the elastic dough separates from the rim of the bowl.
Cover the dough and let it rise at 23°C – 35°C for approx. 45 – 70 minutes until it's doubled in size.
Oil the baking tray, flatten and stretch the dough with your fingers and cover it. Let it rise at 23°C – 35°C for approx. 60 – 90 minutes.
Spoon on the tomato sauce. Bake at 230°C upper and lower heat (preheated) for approx. 20 minutes. Sprinkle with mozzarella cheese only toward the end of the cooking time.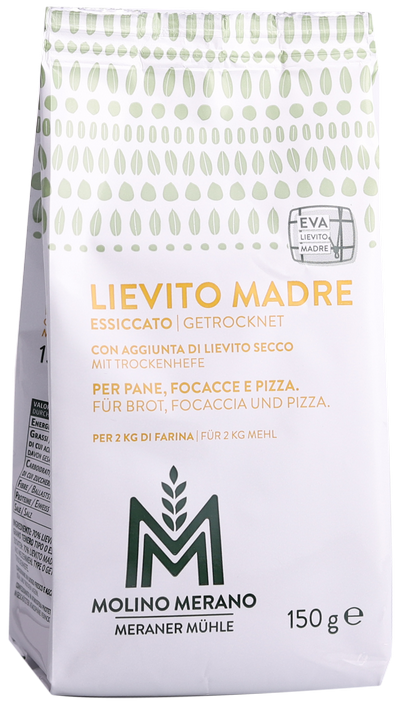 Lievito madre con aggiunta di lievito
Questo lievito madre essiccato del Molino Merano con aggiunta di lievito di birra viene utilizzato per la creazione di pane, pizza, focaccia e lievitati dolci. È consigliato a chiunque vuole godersi i vantaggi del lievito madre ma che vogliono anche passare meno tempo a cucinare: gli impasti possono essere lasciati lievitare per circa 2 ore in totale. Per prodotti da forno particolarmente digeribili e soprattutto molto gustosi.Dosaggio: 75 g su 1 kg di farina.Ricetta: Pane a lievitazione naturaleTreccia dolce con lievito madrePane con lievito madrePizza tirolese con lievito madre