Sweet pita with apples
Ingredients
For 2 pitas
175 ml approx. water
3 red apples
¼ tsp vanilla sugar
½ tsp cinnamon
Pinch of clove powder
Currants
100 g natural yoghurt
Preparation
Put 250 g baking mix in a large bowl. Add water and knead for about 15 minutes to get an elastic dough. Fold a few times in the bowl, cover and let it rise until the volume doubles.
*If you like, you can increase the amount of water to about 220 ml. This produces a slightly softer dough, which is excellent for baking in a stone oven or on the pizza stone.
Wash and peel 2½ apples (we need the rest at the end), cut them into cubes and put them in a pot. Add lemon juice and simmer at low heat for about 15 minutes.
Add cinnamon, vanilla and clove powder to the cooked apples and stir well. Then mash the mixture.
When cooked, divide the dough into two equally sized pieces and form two balls. Sprinkle the work surface with semolina and let the dough pieces rest for about 30 minutes.
Roll out the dough pieces and bake in the preheated oven at 220°C (top and bottom heat) for approx. 10 minutes until golden brown.
Take the pita breads out of the oven and sprinkle with the applesauce. Garnish as you prefer with apple slices (e.g. in the form of stars), fruits and nuts mix, currants (or other fruits) and a few spoons of yoghurt.
Photo and recipe: Cristina Mauri - Good Food Lab
Miscela per pane orzo e avena
Miscela ideale per produrre pane con orzo e avena morbido e fragrante. L'impasto di farina di grano, orzo e avena, lievito madre e la pasta acida di granto tenero integrale conferisce ai vostri paninetti un sapore leggermente più forte. Facile da usare, vi permette di ottenere risultati sorprendenti! Dovete solo aggiungere acqua.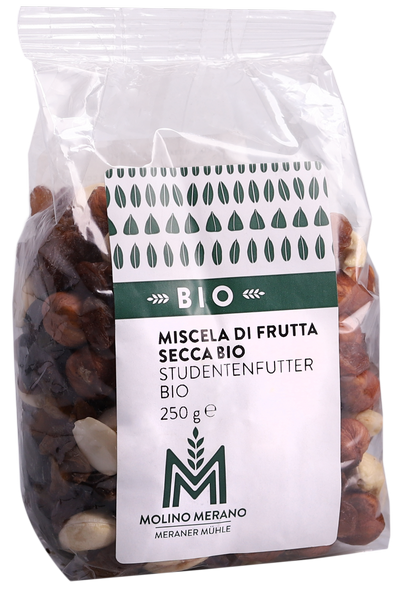 Miscela di frutta secca Bio
Il pregiato mix del Molino di Merano, a base di ingredienti biologici selezionati come noci, semi e uva passa, dà sempre la giusta carica di energia in viaggio o tra un pasto e l'altro! Le noci, in particolare, forniscono grandi quantità di vitamine del gruppo B (soprattutto vitamina B1), nonché magnesio, potassio e vitamina E. In questo modo rafforzano i nervi e sostengono il metabolismo energetico di ogni singola cellula.