Wholemeal spelt bread
Preparation
Mix all ingredients until achieving a homogeneous dough. Cover with a cloth and let it rise for about 20 minutes.
Divide the dough in ten parts and work each part by hand on a floured surface until achieving the desired shape.
Dip the buns in the wholemeal spelt flour, place them on a tin and let them rise in a warm place for about 30 minutes.
B
ake at 230°C (upper and lower heat). After 5 min., lower the temperature to 200°C and continue to bake for another 15-20 minutes.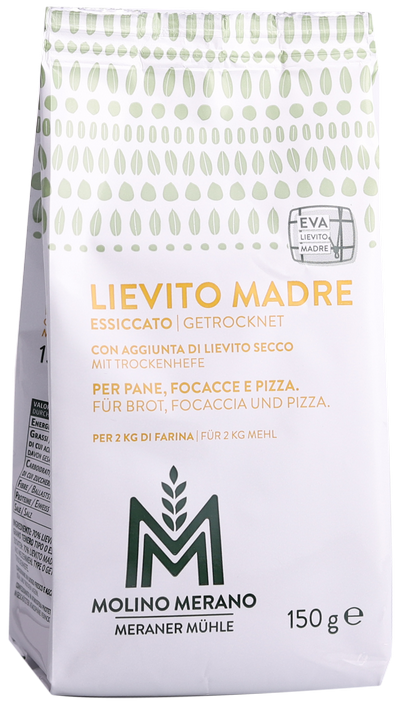 Lievito madre con aggiunta di lievito
Questo lievito madre essiccato del Molino Merano con aggiunta di lievito di birra viene utilizzato per la creazione di pane, pizza, focaccia e lievitati dolci. È consigliato a chiunque vuole godersi i vantaggi del lievito madre ma che vogliono anche passare meno tempo a cucinare: gli impasti possono essere lasciati lievitare per circa 2 ore in totale. Per prodotti da forno particolarmente digeribili e soprattutto molto gustosi.Dosaggio: 75 g su 1 kg di farina.Ricetta: Pane a lievitazione naturaleTreccia dolce con lievito madrePane con lievito madrePizza tirolese con lievito madre
Miscela di spezie macinate per pane
La miscela di spezie del Molino Merano è composta da cumino, coriandolo e finocchio. È finemente macinata e bilanciata ottimamente e conferisce ai vostri pani un sapore aromatico, forte e pieno. Mai più pane banale!
Farina integrale di farro
Il farro selezionato viene delicatamente macinato nel Molino Merano diventando farina integrale fine con tutti i preziosi componenti del grano intero. È particolarmente adatto alla produzione di pane integrale, ma può essere utilizzato ovunque come alternativa al grano. La farina di farro integrale ha il tipico sapore di nocciola ed è molto digeribile. Già nel XII secolola badessa Hildegard von Bingen giurò sul farro: "Il farro è il miglior grano, grasso e potente e più digeribile di tutti gli altri cereali. Dona all'anima umana felicità e la riempie di serenità".